GLP-TDS-100 Clamp on Type Ultrasonic Flow Meter



GLP-TDS-100F1 wall mounted


(standard)

GLP-TDS-100F2 wall mounted





(explosion-proof type )


GLP-TDS-100F3 Fixed plate type

GLP-TDS-100Y Integrated type



I: features
1、GLP-TDS-100F1 wall mounted(standard)ultrasonic flow meter
u Display: English or Chinese ( changeable )
u Compact structure, strong, international advanced die-casting aluminum chassis
u Weight:2.5Kg
u With heat display function(optional)
u Voltage : AC220V、DC24V (optional )
2、GLP-TDS-100F2 wall mounted(explosion-proof type )ultrasonic flow meter
u Display: English or Chinese ( changeable )
u Compact structure, strong, international advanced die-casting aluminum chassis
u Weight:7Kg
u Explosion proof : dⅡBT4
u With heat display function(optional)
u Voltage : AC220V、DC24V (optional )
3、GLP-TDS-100F3 Fixed plate type ultrasonic flow meter
u Display: English or Chinese ( changeable )
u Conform to the national standard of the chassis(Plane frame size 80×160mm)
u Weight: 2Kg
u With heat display function(optional)
u Voltage : AC220V、DC24V (optional )
4、GLP-TDS-100Y Integrated type ultrasonic flow meter
u Display: English or Chinese ( changeable )
u Magnetic type buttons window operations
u With heat display function(optional)
u Data is not lost without electricity for 100000 hours
u Voltage : AC220V、DC24V (optional )
II:Basic technical parameters:
1、Host
u Accuracy better than 1%, the repeatability of 0.5%
u measurement cycle:500 ms(2 times per second, 128 groups of data per cycle)
u backlit LCD and display instantaneous flow and cumulative amount at the same time, the instantaneous heat and
accumulative total quantity of heat, velocity, time and other data
u output : 4~20mA or 0~20mA,impedance : 0~1K,accuracy: 0.1%
u It can measure the heat or changeable from flow rate to heat.
u It can record before 512 days and 128 month in automatically, also the positive/negative/net cumulative flow in the
first 10 years.
u It can record before 30 times calls and interruption time flow rate automatically, also can fill quantity by manual and
automatically, reducing the loss of user traffic, also can be read through the Modbus protocol.
u It can program batch (quantitative) controller, fault self-diagnosis function.
u It can implement software upgrade by transmitted via E-mail to the code file.
u Communication protocol;Modbus protocol、M-Bus protocol、FuJI and compatible with the domestic similar products of
other manufacturers communication protocol.
u Signal input:three road 4 ~ 20 ma analog input, accuracy 0.1%, it can input pressure, liquid level, temperature signal; Two
way three-wire system PT100 platinum resistance, it can display instantaneous and accumulation of heat
u Output:one road insolated RS485 output, one road 4~20mA or 0~20mA output、one way isolation OCT(pulse width
between 6 ~ 1000 ms programmable, 200 ms) by default, a relay output
2. Special cable
u SEYV75-2 block type ,can be extended to 500 meters in single, at the same time, pay attention not to parallel with high
voltage cable and avoid the frequency converter AFAP.
3. Pipe


u Pipe material:steel, stainless steel, cast iron, cement pipe, PVC, aluminum, copper, glass fiber reinforced plastic all quality
of pipes, the lining is allowed.
u Pipe Diameter :15mm~6000mm
u Straight pipe:the sensor installation points best satisfy the 10 D upstream, downstream 5 D, pump discharge from 30 D (D stand for the pipe diameter)
4. Medium
u Type:it can support ultrasonic single homogeneous liquid , such as tap water, sea water, industrial sewage, various oil, acid alkali, alcohol, beer.
uTemperature:0℃~160℃
uTurbidity:≤10000ppm,and bubble content is small
uFlow rate :0~±64m/s
uFlow directions:Both positive and reverse measurement and measurement net flows.
5. Working temperature
u Host temperature:-30℃~80℃
u Sensor temperature:-40℃~160℃
u Host anti-corrosion grade:IP65
u Host humidity:85%RH
u Sensor humidity:it can work in immersion situation,depth of water≤3m,protection:IP68
6. Power
u AC85~264V or DC8~36V or AC7~30V
7. size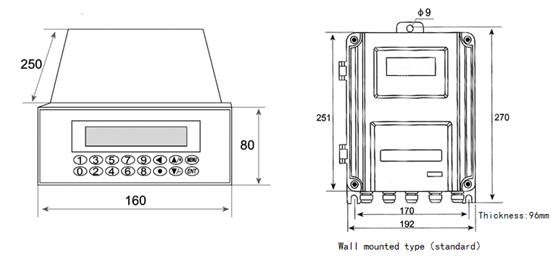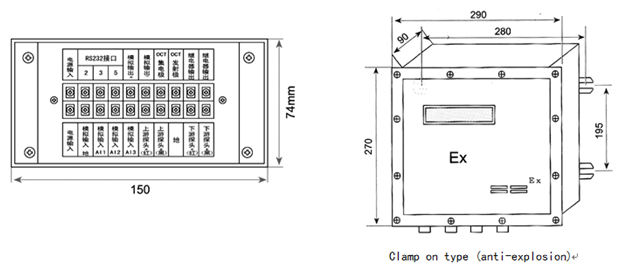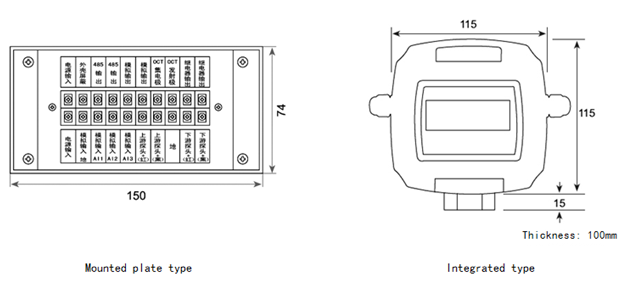 III、sensor ( optional )

1、wall mounted type sensor



Standard S1 small sensors(magnetic)


u Pipe: DN15~DN100

uLiquid temperature : 0~160℃

Standard M1 middle sensors(magnetic)


u Pipe: DN50~DN700

uLiquid temperature : 0~160℃

Standard L1 large sensors(magnetic)


u Pipe: DN300~DN6000

uLiquid temperature : 0~160℃

2.insertion type sensor

Standard insertion B type

(vertically insertion)

Insertion C type

(Slanting insertion)







Extended inserting type B




(cement works)



3, standard pipe sensors

4 、ultrasonic heat meter