GLP-TDS-100H Handheld Ultrasonic Flow Meter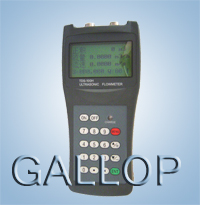 I、Overview :

II、Basic Technical Parameters
1、Installation ways
u Clamp on type, it is simple and convenient for operation.
2、Medium
u Single and stable liquid of water, sea water, industrial sewage, alcohol, various oil ,
3、Medium turbidity
u ≤10000ppm bubble content is small
4、Pipe material
u It suitable for uniform quality of pipeline of carbon steel, stainless steel, cast iron, copper, PVC, aluminum, glass fiber reinforced plastic, and the lining is allowed.
5、Flow rate range
u 0~±30m/s
6、Accuracy
u Better than ±1%
7、repetitively
u Better than ±0.2%
8、voltage
u It has nickel hydride rechargeable circuit inside, nickel hydride rechargeable battery can work more than 10 hours continuously.
9、weight
u 538 G
10、others
u it can display instantaneous flow rate, flow velocity, accumulated flow, signal state, etc at the same time
u It has data recorder inside , it can record the date, the cumulative flow, signal status, working hours, etc
u standard RS232 data interface for networked detection or export record data
u OCTL output Positive and negative, the static accumulation of pulse signal and the frequency signal(1-9999KHZ)
III、basic configuration:
Host signal cable 5m×2 standard M1Zmiddle stents Aluminum alloy
IV、sensor (optional)



Standard S1 small type sensor(Magnetic)

u Pipe: DN15~DN100

u Liquid temperature : 0~160℃









Standard M1 middle type sensor(Magnetic)

u Pipe: DN50~DN700

u Liquid temperature : 0~160℃









Standard L1 middle type sensor(Magnetic)

u Pipe: DN300~DN6000

u Liquid temperature : 0~160℃






















Standard S1 Z small stents sensor

(Magnetic)

u Pipe: DN15~DN100mm

u Liquid temperature : 0~70℃







Standard M1 Z middle stents sensor

(Magnetic)

u Pipe: DN50~DN700mm

u Liquid temperature : 0~70℃